At Earth's End Featuring illy
The pleasure of authentic Italian coffee. 1933.
A delightful, civilized caffe experience in the heart of town.
The pleasure of a break with illy.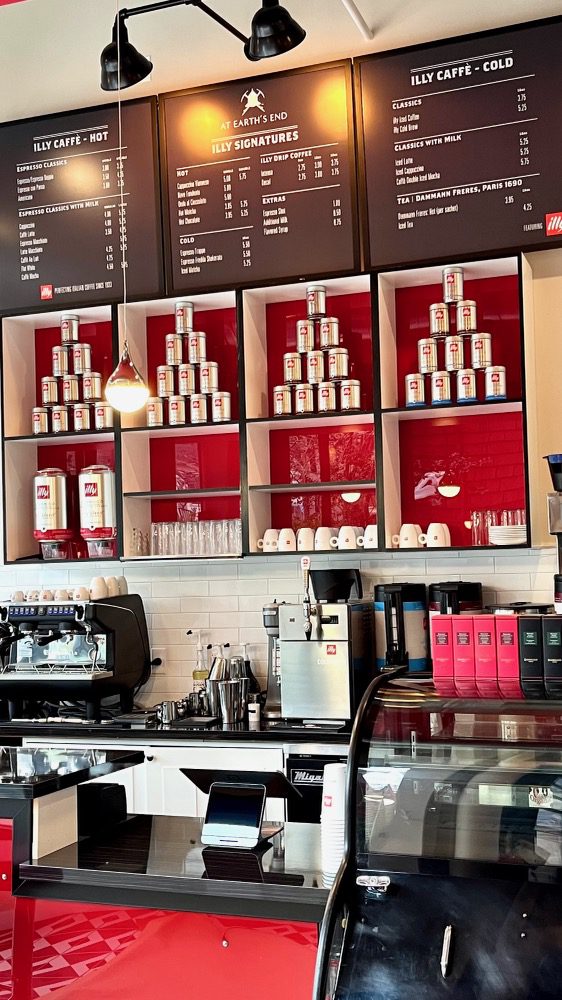 Recognized globally for its symphony of rich velvety taste, silky texture, and bold aroma.
Each illy cup is blended from nine varieties of pure Arabica around the world.
The Coffee
Behind the name illy is a family that has been working together to realize one great dream since 1933: to offer the best coffee in the world. illy has been the delight of millions of coffee lovers for almost 90 years.
illy has mastered the art of coffee by perfecting the roast of an exceptional combination of 9 best-quality 100% Arabica coffees from South America, Central America, India and Africa. 
The result is a symphony of rich velvety taste, silky texture and bold aroma conducted by the floral notes of coffee from Ethiopia, chocolate notes from Guatemala, caramel from Brazil, fruit notes from Colombia and spice notes from India. 
We are proud to bring you this award-winning, world-renowned velvety coffee made by the third generation of the Illy Family, innovators and sustainability leaders who are as passionate about coffee as you are.
Enjoy the Symphony of the illy Blend
The great dream of the Illy Family is to offer the best coffee in the world. It's a dream they have achieved across 9 decades with a masterful blend of 9 Arabica coffees that delights millions of coffee lovers. Visit us at illy At Earth's End to savor the experience, art and thoughtful, award-winning innovation that illy pours into the pleasure of coffee.
Delight in the Caffe Experience 
Stay or to-go? Either way, savor illy Italian coffee at illy At Earth's End. Indoors is a comfortable, design-forward setting. Outdoors, the European-style patio, Perhaps enjoy a delicate Italian pastry too. All within steps of the shops and restaurants of both Palmer Square and Witherspoon St. in
Princeton.
Weekdays
Monday Closed
Tuesday 8am – 7pm
Wednesday 8am – 7pm
Thursday 8am – 8pm
Friday 8am – 9pm
Weekends
Saturday 8am – 9pm
Sunday 8am – 3pm
Address
45 Spring St, Princeton, NJ 08542